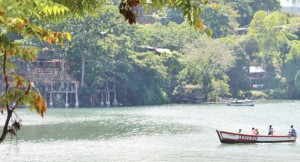 Irish newspaper glorifies Malawi
Ireland's famous newspaper, The Independent, has given Malawi a rare positive review of its tourism attractiveness, describing the country as "the rising star of African safari" whose renewed efforts to protect wildlife have started paying dividends.
The article, under the headline "Forget Kenya and South Africa: Malawi is the rising star of Africa Safaris", was published over the weekend and has been written by renowned travel writer Isabel Conway who was in the country recently on an expedition that took her from Lilongwe to Chikwawa district.
She observed that while Jeeps pile through popular safari parks in Kenya and South Africa, Malawi remains unspoiled where wilderness parks and game reserves – decimated in the past by poaching – are thriving again.
"Malawi is a magical road less travelled," writes Conway.
"This small, landlocked East African country is Ebola-free and dedicated to the protection of its wildlife with zero tolerance for poachers, ivory and exotic species smugglers," says Conway, in the article, adding: "Then I experience another first – a great big smile and a verbal welcome from an immigration official."
In Lilongwe, she visited the old town market where she thought that as "a woman and only foreign face in a milling male crowd", she would be pushed and stared at.
"Instead, the men smiled and shouted out greetings. One gentleman even steadies me as I slip over a pile of fish entrails," writes Conway.
She later visited Lake Malawi where she rode an inflatable boat to thickly-forested Nankoma Island and lodges at a "deserted but romantic Blue Zebra Island Lodge" famed for bird watching at the Unesco World Heritage-protected marine park.
Down south, she visit a 500- acre private game park Game Haven Lodge and Mbawa Country Club in Thyolo, where she saw Nyala, waterbuck, impala, eland and occasionally giraffe wandering across the golf course greens.
"On the nearby Satemwa tea plantation estate is Huntingdon House – a relic of colonial days. Once a family home, it is now an elegant boutique hotel with terrific food, set among manicured lawns, blue gum trees and formal gardens," writes Conway.
Further down in Chikwawa, Conway visited Majete Wildlife Reserve and spends a night in a tented chalet in "authentic Thawale Lodge" which, she observes, is completely unfenced with an open-air bathroom looking out on a floodlit waterhole.
Conway admits that given the Ebola crisis in Africa and sporadic terrorist attacks in Kenya, prospective travelers may be nervous or wary about visiting sub-Saharan Africa.
"In reality, however, Ebola-affected areas are as far away from East Africa as London, while conflict zones can be thousands of miles removed from the places tourists go," she says.
(Visited 13 times, 13 visits today)
Latest posts by Vanessa Banda
(see all)