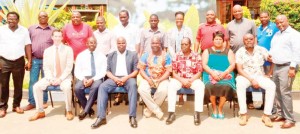 JTI trains MPs on regulation standards
JTI sponsored a training on Better regulation for Economic growth for members of Parliament led by internationally recognized expert in Better Regulation, Nathan Frey of Regulatory Strategies and Solutions Group (RSS).
Speaking during the opening ceremony, Chairperson for Agriculture and Irrigation, Joseph Chidanti-Malunga, said the workshop was important because by its definition, it supports quality of life, social cohesion and the rule of law, through enhanced transparency and public participation.
"I have read the concept of Better Regulation and I have come to appreciate that it supports initiatives to simplify the law and improve access to it. This seminar is very important to us, as Members of Parliament because it is coming at a time when we are undertaking reforms. The government believes in business unusual and seminars like the one we are having today help in entrenching in us the reforms being undertaken by government," said Chidanti- Malunga.
JTI Malawi Corporate Affairs and Communications Director, Harold Msusa, said the seminar's objectives were to strengthen the country's regulatory capacities and improve the existing dialogue between private sector and government institutions for the development of lower cost and more effective regulations.
"Better Regulation helps governments make better regulatory decisions based on information and empirical analysis about the potential consequences of government action. The aim of this workshop is to ensure that better policy options are chosen by establishing a systematic and consistent framework for assessing the potential impacts of government action," said Msusa.
(Visited 19 times, 19 visits today)
Latest posts by Vanessa Banda
(see all)