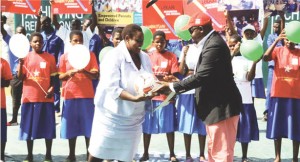 K1.7bn for 2nd JTI child labour project
JTI Leaf Malawi says it has set aside US$4 millon (K1.7 billion) for the second phase of a project that seeks to curb child labour in tobacco growing districts.
JTL Corporate Affairs and Communication Director Limbani Kakhome told The Daily Times disclosed this on the sidelines of the function marking the launch of the project at Silver Stadium in Lilongwe.
Kakhome said the project called Achieving Reduction of Child Labour in Support of Education (ARISE) – is a tailored and specific global initiative by JTI designed to arrest the use of child labour in tobacco estates.
He said his company wants to take a holistic and multi-sectoral approach in dealing with child labour in the communities where it sources its leaf needs.
"JTI's stand against child labour is very bold and clear. We detest it in all its forms. We strongly believe that no matter how compelling the reasons might be, there is no justification for subjecting a child to the hazards of labour," said Kakhome.
Since 2011, the company has been implementing the ARISE programme in tobacco growing communities of Lilongwe and Ntcheu by providing access to education and alternative economic opportunities as well as advocating policy changes on child labour.
Kakhome said the ARISE project was specifically designed by JTI as a tool for reducing child labour in communities it operates.
This project is also running in Zambia as well as Brazil where JTI has leaf operations, according to Kakhome.
In the past four years, JTI has through ARISE constructed additional classroom blocks at 12 schools in Ntcheu and Lilongwe, constructed support infrastructure such as teachers' offices and sanitation facilities, provided learning materials as well as withdrawing thousands of children from hazardous labour situations and redrafting them into schools.
The second phase, said Kakhome, will see JTI expanding while up-scaling interventions in the existing ARISE districts of Ntcheu and Lilongwe.
(Visited 8 times, 8 visits today)
Latest posts by Vanessa Banda
(see all)