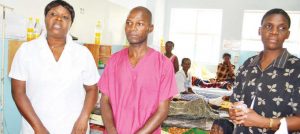 Labour rights awareness campaign launched
Renowned labour rights expert, Ken Williams Mhango, has urged various managers not to discourage the formation of trade unions in their workplaces, saying such groupings benefit all parties in the labour market.
Mhango was speaking in Blantyre on Wednesday during the launch of Solidarity Project Labour rights awareness campaign.
The campaign will see Solidarity Project enlightening Malawians on various labour rights through media channels such as radio, television, newspapers and others.
Mhango said it is unfortunate that some managers think that they own the firms they are working for and therefore discourage unions.
"Unions are for all workers, whether you are in management or not. Managers need to realise that they are also employees and not employers.
"The fact that you have been employed to head a company does not make you the owner, so there is no reason for you to discourage unions in the workplace. Unions are there to provide a conducive platform through which employers and employees could iron out their differences amicably," said Mhango.
The labour rights awareness is happening at a time when unions are trying hard to increase membership numbers by conducting meetings in various workplaces but the situation on the ground seems to be hostile.
According to Solidarity Project, there are still some employers who make it hard for the leaders of the trade unions to organise meetings at workplaces.
Solidarity Project Coordinator, Ronald Mbewe, said unorganised workers find it difficult to organise themselves and form trade unions.
He said it is a given fact that when a workplace has no trade union, workers cannot negotiate meaningfully and peacefully with the employers.
This labour rights awareness launch is the start of the awareness campaigns, which will be done through media channels such as radios, TVs and newspapers. The aim is that we want to take labour rights messages not only to the workplaces but also into the homes of workers.
(Visited 11 times, 11 visits today)
Latest posts by Vanessa Banda
(see all)