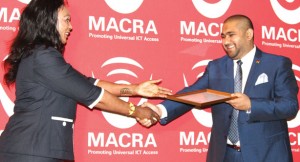 Lacell back, gets phone licence for second time
The Malawi Communications Regulatory Authorit y (Macra) on Monday officially presented mobile phone and general telecommunications operation licence to Lacell Private Limited after an earlier licence to the company was controversially withdrawn.
Malawi's telecommunications market currently has four operators namely MTL, TNM, Airtel and Access while another licenced operator, Celcom, is yet to roll out its network.
Lacell has since disclosed that it will invest US$150 million in the rollout of its network over the next five years.
Lacell chairperson Farook Sattar said during a ceremony to receive the licence in Blantyre that the company plans to create over 1,000 jobs once it fully rolls out.
He said the company intends to roll out its network in the first half of next year and that it will use code 078 on its network.
Sattar said the coming in of the company will bring some significant competition and changes in the industry.
"We know it is a challenge to come in at a later stage in the market where big established competitors already exist. However, we feel that we will be able to bring significant value and innovation to the consumers of Malawi," he said.
"We have a very good chance to establish a successful business and provide a true valuable new choice of telecom providers to Malawian consumers," said Sattar.
He promised that Lacell will focus on providing value for money services to consumers for both voice and data services while making it easy to become a subscriber.
Speaking during the ceremony, Macra board chairperson Alissa Makawa said Lacell has been licensed to increase competition and add value to telecommunication services in the country.
"With competition, consumers will now have the liberty to simply switch off to a service provider who puts their needs first above the desire to make profits," said Makawa.
(Visited 46 times, 46 visits today)
Latest posts by Vanessa Banda
(see all)