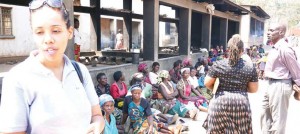 Land Care donates wood fuel to Kamuzu Central Hospital
Total Land Care has donated one tonne of sustainable firewood to Kamuzu Central Hospital to ease fuel wood challenges that guardians at the facility are facing.
Presenting the donation, Total Land Care Marketing Manager, Natasha Coombes, said the company felt duty bound to help mitigate the challenges through provision of sustainable supply of fuel.
"With support from Irish Aid, Total Land Care is piloting a sustainable village model for producing, transporting and marketing biomass. The initiative is built on good land husbandry practices and together with other stakeholders, we have been imparting skills and providing energy efficient cook stoves to farmers," she said.
Madalitso Chiphiko, a resident of Area 51 in Lilongwe whose husband is admitted at the facility, said those that come to the hospital face a lot of challenges.
"At this guardian shelter, they gave us Chitetezo Mbaula as an efficient cook stove that we must use, this is a good gesture. But then as you know there are challenges to find wood to use when cooking," she said.
(Visited 16 times, 1 visits today)
Latest posts by Vanessa Banda
(see all)