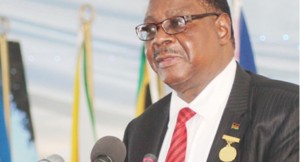 'Let's industrialise to gain from TFTA'
President Peter Mutharika believes Malawi can benefit from the recently launched Tripartite Free Trade Area (TFTA) if it can develop a good industry to compete on the international market.
Mutharika said the TFTA – which has brought together 600 million people into one market through the merger of Sadc, East African Community and Comesa, is important for the economic development of the country as it involves movement of goods and services between different countries.
He was speaking to Malawian journalists in Sharm El Sheikh, Egypt before leaving the country after pending Malawi's signature to the TFTA agreement.
Mutharika said the agreement will, among other things, allow Malawi to attract more investors that will be able to utilise the market.
"Many investors will be able to have access to a bigger market. Investors who can come to Malawi, especially those in manufacturing sector will be able to sell their goods to a larger market, there by boosting our small economy," said Mutharika.
Mutharika assured local companies that the coming in of foreign investors will not push their businesses out.
He said local companies should not get worried as they will be given incentives so that they are able to benefit from the TFTA.
"We will never enter an agreement that we know will jeopardise existing Malawi companies. No local company should get worried about any push outs," said Mutharika.
He encouraged local companies to go into joint ventures with foreign companies in order to achieve competitiveness and attract capital and technology for their production.
(Visited 4 times, 4 visits today)
Latest posts by Vanessa Banda
(see all)