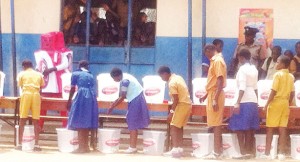 Lifebuoy goes to primary schools
Unilever Malawi has launched a Lifebuoy brand promotion aimed at increasing the product's visibility as well as promote cleanliness among primary school going children in the country.
The promotion is expected to be taken to various primary schools in all the three regions of the country where learners will be engaged on hygienic practices while promoting the new Lifebuoy soap.
At the end of the campaign, one school deemed effective and successful in hygiene and cleanliness will win a water tank to be mounted within its campus by Unilever.
Speaking at Nyambadwe Primary School in Blantyre on Wednesday where an activity for the promotion was undertaken, Unilever Malawi's assistant brand building manager Nita Musyani said the promotion is aimed at strengthening brand loyalty among the school going children.
"We have launched this campaign to help in training students on cleanliness and hygiene. The young people are the potential and future customers for our business," said Musyani.
She said with the business target set ahead, the firm intends to address the existing concerns of its clientele especially young people.
"If we fully equip these students with information on the importance of Lifebuoy on hygiene, we will build a bond that will keep them as our valued customers even when they grow up," she said.
(Visited 6 times, 6 visits today)
Latest posts by Vanessa Banda
(see all)