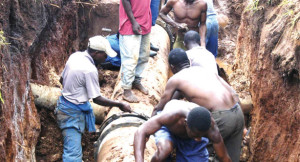 Lilongwe Water Board needs K125bn for Diamphwi dam
The Lilongwe Water Board (LWB) requires US$290 million (about K125 billion) to construct a multifaceted water reservoir on Diamphwi river as one way of improving water supply in the capital city, a new feasibility study has indicated.
Earlier estimates from the board had put the planned cost of the dam at US$160 million.
The project is planned for implementation by 2018 and is meant to enable the board meet demand for water supply in the city until 2040.
The World Bank is said to have already committed US$71 million towards the project while other financiaers such as the African Development Bank (AfDB) are expected to come in later to partner some private investors in the project, according to LWB Chief Executive Officer Alfonso Chikuni.
Lilongwe's water availability status is slowly eroding as LWB admits that it is overwhelmed by the rapid population and business growth of the city amid lack of strategic investments in the water system.
It was learnt during a media briefing about the water situation by LWB officials on Tuesday that there is a looming water crisis in Lilongwe city similar to that of Blantyre City.
The water supply system in Lilongwe city faces various challenges, including depletion of water sources at Kamuzu Dam I and II, outdated treatment facilities as well as an aged pipeline system that requires huge re-investments to be restored to proper functioning.
Chikuni said over the years, LWB has only been able to access resources from donors for investments in the water system and that there have been no government resources for capital projects in the water supply system of the city.
"All these facilities and projects are funded by donors. I'm talking about the dams, treatment plants and pipelines," said Chikuni.
Commenting on the matter in a separate interview, Ministry of Finance spokesperson, Nations Msowoya, said huge amounts of investments required for water supply projects makes it difficult for government to allocate budget resources for investments.
Msowoya said, however, government always helps in the sourcing of funds for the investments through loans and grants from international institutions.
He said the Malawi government has this year also provided K2 billion each to the three water boards in the cities of Lilongwe, Blantyre and Mzuzu towards various projects planned by the boards.
On the financing for the Diamphwi water reservoir project, Msowoya said government is working with the International Finance Corporation (IFC), an arm of the World Bank, to help in mobilising funds for the project.
"The discussions are going on and we expect them to take 10 months to conclude," said Msowoya.
LWB has a 14,000 cubic meters deficit and is currently implementing projects that could bring an additional 30,000 cubic meters of water into the water supply system.
(Visited 12 times, 12 visits today)
Latest posts by Vanessa Banda
(see all)