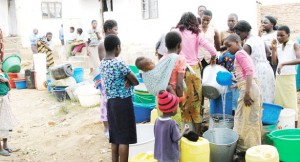 Lilongwe water crisis nears end
Shortage of water in Malawi's capital, Lilongwe, may become history after the Lilongwe Water Board (LWB) completes its expansion plans in October.
LWB is currently implementing several water projects aimed at providing an additional 30,000 cubic meters of water to lessen the current water deficit the capital city residents have been grappling with.
This also follows the lowering of water levels at the board's main source, Lilongwe River.
Chief Executive Officer for LWB, Alfonso Chikuni said in interview the company that is working on the project is now interconnecting the new water treatment plant to the old system.
He said the exercise will temporarily affect water supply in the city.
"The plan is to shut down our Water Treatment Works II, which constitutes 63 percent of our production for a maximum period of one day a week to allow the interconnection works to be carried out smoothly," said Chikuni.
The facility will boost water production and supply to the city residents currently standing at 95,000 cubic meters a day.
Demand for water in the city currently stands at 120,000 cubic meters a day with LWB able to supply to 52,000 metered connections and 550 kiosks daily.
Meanwhile, Chikuni said the company has managed to source some funds for the long term project of constructing a new dam at Diamphwi which will cost about US$290 million as government is still trying to source funds to meet a shortfall of up to US$50 million.
(Visited 3 times, 3 visits today)
Latest posts by Vanessa Banda
(see all)