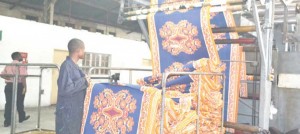 Little to show for Agoa trade pact
Malawi is still failing to capitalise on the trade pact with the United States of America under the African Growth and Opportunity Act (Agoa) treaty.
Agoa is a trade Act enacted in May 2000 and covered an eight year period up to 2008 but has since been renewed to 2025.
The Act significantly enhances market access to the US for qualifying sub Saharan African countries.
But according to latest statistics sourced from the US embassy, imports for consumption under Agoa to the US stand at -42.3 percent.
The statistics show that only three groups of products are currently trading under the Agoa from Malawi to the US.
The products fall under the category of tobacco and manufactured tobacco substitutes.
Under this category, the US has imported goods
worth $11,084 in 2015 and in 2016; they have so far imported goods worth $9,049 representing a -18.4 percentage change.
In the apparel and clothing category, the imports registered a -85.4 percentage between 2015 and 2016, while edible fruits registered a -62.1 percentage change.
On the other hand, US exports to Malawi stand at $26,567 from $27,409 in 2015, representing a -3.1 percentage change.
(Visited 9 times, 9 visits today)
Latest posts by Vanessa Banda
(see all)