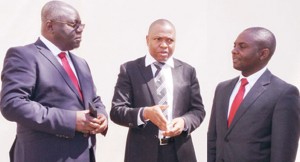 Local firms miss rebate threshold
Despite Malawi government forgoing import duties worth over K39 billion over the last three years under the industrial tax rebate scheme, local manufacturers are still failing to meet the 20 percent value addition threshold requirement under the scheme.
Malawi Revenue Authority (MRA) Commissioner General Ralph Kamoto said this on Wednesday during an interface meeting between MRA and manufacturers under the scheme.
Kamoto, expressed concern that some manufacturers under the scheme are not meeting the basic requirement of 20 percent value addition.
"Government is doing its best to ensure that you guys produce value added products. You also need to do your part. K39 billion is a lot of money," said Kamoto.
The industrial rebate scheme allows registered manufacturers to import raw materials duty free, to encourage the setting up of manufacturing industries in Malawi.
"The scheme is only applicable to manufacturers who are able to meet the minimum 20 percent value addition threshold," he said.
Kamoto said the meeting also provided an opportunity for MRA to share and obtain input from the manufacturers on the Tripartite Free Trade Area.
He, therefore, encouraged manufacturers to increase their value addition beyond the 20 percent threshold in order to meet the Industrial Rebate Scheme condition and ably export Malawi original products into the region markets under preferential rates.
Currently, Malawi has 166 companies registered under the industrial rebate scheme.
Candlex Limited General Manager Frederick Changaya thanked MRA for the interface meetings which he said would help address some of the concerns industry has.
Among others, Changaya expressed concern over the short term nature of the industrial rebate licence, saying the current one year period is too short and makes planning difficult. He suggested three years as a better period for the licence.
Changaya also expressed discontent with the way authorities calculate value addition under the scheme, saying it should be based on the weight of local content in a product and not value of local content.
(Visited 26 times, 26 visits today)
Latest posts by Vanessa Banda
(see all)