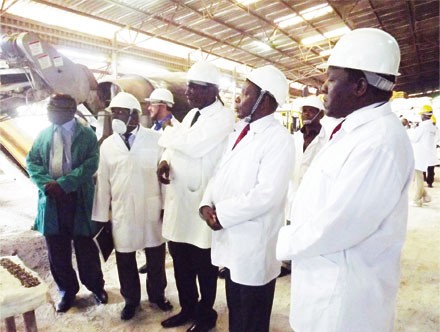 Locally made fertiliser at Optichem company
Optichem Malawi says it will soon start producing phosphate at its Thundulu mine in Phalombe which will enable it start making fertilizer using local raw materials.
This was learned last week during a visit to the company's premises in Blantyre by Minister of Industry and Trade Joseph Mwanamvekha.
The company currently makes fertilizer using imported raw materials such as phosphate which is an inorganic chemical mined to obtain phosphorus for use in agriculture and industry.
Optichem managing director, Paul Attwood, told the minister that the company will soon start making fertilizer using locally sourced phosphate from its mine in Phalombe.
He said the development will make Malawi become a basic producer of competitive fertilizer with a high level of local content and that the economy will benefit through reduced import costs.
"This will add value, which obviously has a positive impact on the government's balance of trade and GDP [gross domestic product] of the country," he said.
He said competitive pricing becomes a major challenge when producing using a lot of imported materials.
Meanwhile, Kings Tin Manufacturing General Manager Joseph Kalemba has requested the government to introduce a deliberate policy to protect local producers.
Speaking during Mwanamvekha's tour of the company's production centre in Blantyre, Kalemba said government also needs to encourage Malawians to buy locally produced goods.
"It disappoints us as producers that customers prefer to buy foreign goods that are of the same quality with what we are producing. The government should help us on this so that we remain in business," he said.
In his remarks, Mwanamvekha encouraged local companies to produce goods that are normally imported.
"In doing so, we should be able to save on foreign exchange and create jobs," he said.
He said the government realizes that for companies to produce competitively, they need appropriate incentives as well as right policies and a tax structures that will support local production.
Mwanamvekha said the government is already looking into the issues through discussions with the private sector under the Public Private Dialogue initiative.
Latest posts by Vanessa Banda
(see all)