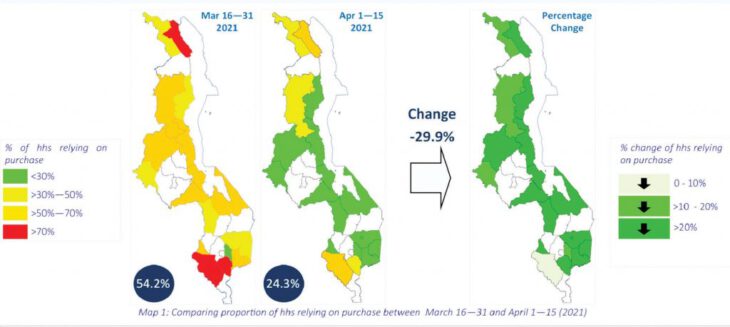 Low food purchases hurt local farmers
Tamani Nkhono Mvula
The proportion of households relying on food purchase went down by 29.9 percent from 54.2 percent in March to 24.3 percent in April, the United Nations' Food and Agriculture Organisation (Fao) says.
This comes as the harvesting season is at its peak.
According to the Fao report, the proportion of households relying on own food production as the main source of food rose by 11.3 percent from 23.8 percent in February to 35.1 percent in March 2021.
This is attributed to the projected rise in estimated food output this year.
Estimates show that maize production will increase by 17.5 percent to 4,447,494 metric tonnes from 3,785,712 metric tonnes produced last season.
Local agriculture expert Tamani Mvula rated the trend as normal as the country exit the lean period.
"During this season the supply of food is higher compared to the levels of consumption. Most people have their own food and do not depend on the market in terms of purchases, this may happen even with the urban dwellers who own their own fields as well," Mvula said.
He said food purchase levels would rise again as this is a seasonal development.
Economic commentator Cosmas Chigwe said the development would ease inflationary pressure.
"For commercial farmers, this is a bad development as it means less income from their investments," Chigwe said.
Ministry of Agriculture spokesperson Gracian Lungu said not all households may be able to follow the increase in food production trends.
He, however, said, in general, the increase in food production is higher than the previous years.
"There are strong indications that many households' own food production will last way beyond the average time of 3-4 months as has been the case in the previous years' owing to the bumper harvest registered this season," Lungu said.
Detailed reports on the households that may not meet their annual food entitlements throughout the year will be released by the Malawi Vulnerability Assessment Committee.
Let us know what you think of this article and remember to add us on our facebook and follow us on our twitter. Come back daily for more Malawi business news.
Quick Links: Download Business eBooks | Ten Signs You Are An Entrepreneur | What is a Managing Director?
Latest posts by Vanessa Banda
(see all)