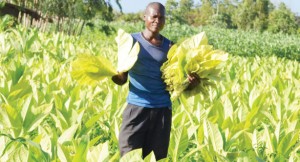 Low prices blamed for fall in tobacco earnings
As this years' tobacco marketing season draws to an end, Malawi has earned slightly over US$336 million from the leaf compared to US$362 million the market earned last year.
The Tobacco Control Commission (TCC) has since attributed the decline to low prices offered for the leaf following a general oversupply of tobacco products on the international market.
But although the market experienced a high rejection rate and low prices, volumes sold went up to 190 million kilogrammes, 20 million more than the final estimate of 170 million kilogrammes.
TCC chief executive officer Bruce Munthali described the season as a mixed bag with a fair share of successes and challenges.
"The prices of burley and flue cured tobacco for the auction market kept declining. And towards the end of the market, we also saw a decrease in the prices of all tobacco by US$0.10," he said.
Munthali said the the quality of the tobacco during the opening season was not satisfactory as farmers brought forward mixed and nested bales.
"We saw that some tobacco was off loaded from the contract market to the auction. This was because farmers had produced above the requirements of their contract," he said.
However, Munthali cited the absence of carry over stock as being among the season's success stories.
"Our major worry at the opening of the season was that some tobacco would not be sold. But, today I'm pleased to say that all tobacco has been sold and we do not have any carry over stock for next year," he said.
According to Munthali, only Lilongwe auction is still trading at the moment with prospects of closing any day this week.
(Visited 8 times, 8 visits today)
Latest posts by Vanessa Banda
(see all)