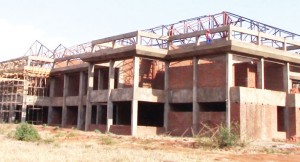 The Lilongwe University of Agriculture and Natural Resources (Luanar) has embarked on commercial ventures in a bid to increase its income base towards self-sustainability.
The university is currently constructing a shopping mall and is venturing in petroleum with more plans been lined up to take advantage of the business opportunities that are presenting themselves following the establishment of the university a few years ago.
Luanar vice chancellor George Kanyama Phiri said the institutions has pumped in millions kwacha in various investment plans.
"We are investing over K300million in the construction of a shopping centre and a filling station which will help to generate some income," said Kanyama-Phiri.
The university has over 3,500 students with only 600 bed spaces.
This provides an opportunity for Public Private Partnership (PPP) investments but there is slow progress.
"We will also be constructing some accommodation facility using our own resources in order to address the accommodation challenges," said Kanyama Phiri.
On the sidelines of the outstanding student awards by National Bank of Malawi, the banks chief executive officer George Partridge said the public universities need to avoid vandalism if they are to attract Public Private Partnerships.
"No private company would want to put investments in these universities if they continue to vandalise facilities. I am urging the students to stop using violence whenever there are disagreements," said Partridge.
The country's universities are failing to woo private sector investments into various business opportunities in a way to help some challenges like accommodation.
Meanwhile, United States Agency for International Development (USAID Malawi) through Agricultural Innovation Partnership (AIP) project is helping Luanar venture into seed production for commercial purposes.
In a bid to enhance entrepreneurship, the project also provides short courses related to seed value chain to industry such as seed inspection, seed production, processing and marketing; project management, leadership and financial analysis.
(Visited 139 times, 3 visits today)
Latest posts by Vanessa Banda
(see all)