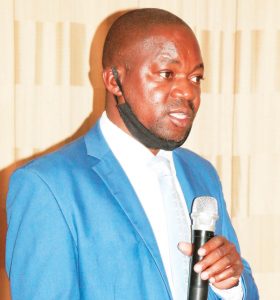 Macra sets new frequency rules
MUSIYAPO—Control exposure
The Malawi Communications Regulatory Authority (Macra) plans to regulate the installation and management of the telecommunication industry in the country by introducing Electronic Magnetic Field Radiations (EMF) Rules for the industry.
EMFs are described as oscillating waves generated when an electric current flows through an electric field, which are used to transmit information over long distances and form the basis of telecommunications and broadcasting all over the world.
Macra Deputy Director Patrick Musiyapo said the plans to introduce EMF rules are in a bid to ensure safety and prevent potential hazards to the general public.
"These rules apply to all electronic communication licensees using Radio Frequency communication transmission equipment operating in 3 kHz to 300 GHz frequency range.
"The developed rules are in line with international recommendations of oversight bodies such as the Institute of Electrical and Electronic Engineers, the World Health Organisation, International Committee on Non-Ionising Radiation Protection and some national standards like American National Standards Institute and the Federal Communications Commission," he said.
Musiyapo added that these frequencies, if not regulated, have the potential to pose a danger to human cells if human bodies are exposed.
"Exposure to radiation from these ionising frequencies is more dangerous to human cells than non-ionising range which is used in telecommunication transmission equipment; hence precaution and shielding is required. Nevertheless, there is a need to control exposure of RF non-ionising radiation to the public," he said.
Macra has since warned that telecommunication operators found to be in breach of the EMF rules will be liable to regulatory sanctions. The would-be perpetrators could be subjected to a compliance order, a cease-and-desist order, a warning or fine.
Let us know what you think of this article and remember to add us on our facebook and follow us on our twitter. Come back daily for more Malawi business news.
Quick Links: Download Business eBooks | Ten Signs You Are An Entrepreneur | What is a Managing Director?
Latest posts by Vanessa Banda
(see all)