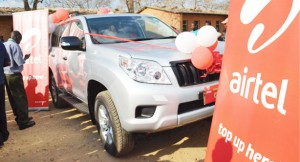 Maid wins K5m in Airtel promo
Immediately after losing her job as a housemaid for being found pregnant, Salima-based Ruth Makowa on Friday breathed a sigh of relief after being informed that she was one of the winners of a K5 million grand prize in Aitel Malawi's Tisanje Promotion.
Three winners, one each from the three regions of the country, emerged grand winners and shared K15 million evenly, with Makowa emerging as the winner for the Central Region.
Makowa said on phone when informed about her luck that she will use the money to improve her life and prepare a future for her unborn child.
"I'm very thankful for this prize money. I have just stopped working as a housemaid because I'm expectant," said Makowa.
"I will use the money to start a big big business!" she said.
With the final draw done, Tisanje Promotion has given cash prizes worth K41.2 million.
In his remarks, Airtel Money Country Director, Francis Matseketsa, said Airtel is excited that its promotions are instrumental in changing lives of people across Malawi.
"We are committed to growing the bond with our customers. We are happy to be creating meaning and purpose out of this bond through promotions like Tisanje," he said.
"In as far as customer satisfaction is concerned, our commitment is always guaranteed" said Matseketsa.
Since its inception in August this year, 112 people have won K100,000 each while 300 people have won K50,000 each in the Tisanje promotion through daily draws.
(Visited 61 times, 61 visits today)
Latest posts by Vanessa Banda
(see all)