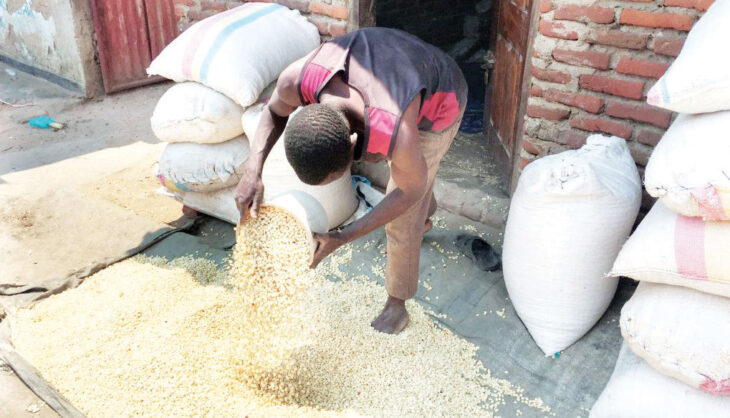 Maize price jumps 146% year on year – The Times Group
Retail prices for maize—Malawi's staple crop— went up by 146 percent between August 2022 and August 2023, figures from International Food Policy Research Institute (Ifpri) show.
Quoted by the Reserve Bank of Malawi in its August 2023 Market Intelligence report, Ifpri figures show that, as at end of August, maize prices increased to K690 per kilogramme (kg) compared to K320 per kg during the same period last year.
Maize retail prices averaged K690.00 per kg in August 2023, representing an increase of 6.0 percent when compared to K650 per kg in July 2023, according to the report.
"Speculative trading has been singled out as the main driver for the observed price hike," the report reads.
Maize weighs heavily on the Consumer Price Index, a formula for computing headline inflation.
Due to the continued rise in price of the commodity, domestic headline inflation also edged up slightly to 28.6 percent in August 2023, from 28.4 percent recorded in July 2023.
The uptick was mainly driven by food inflation, which remained elevated at 39.4 percent, while non-food inflation moved up marginally from the July 2023 outcome of 16.0 percent to 16.1 percent.
Agriculturalist Leonard Chimwaza said, as the country approaches the height of the lean period, the outlook remains murky with a possibility of continued rocketing in retail maize prices.
He said supply of the staple grain should be improved, a thing which has not materialised even with the opening of the Agricultural Development and Marketing Corporation (Admarc) markets.
"We know how Cyclone Freddy affected harvest in the Southern Region, which means low yields and while we were expecting rice from up North, there was drought, which means low yield as well," Chimwaza said.
Minister of Information Moses Kunkuyu said earlier that Admarc markets opened and government will continue to send the commodity to the markets.
He expressed hope that the opening of Admarc market will improve supply and eventually reduce prices.
"The opening of Admarc markets is good news and what remains is to sustain the supply and ensure that all markets are stocked. We are working towards that through the responsible agencies," Kunkuyu said.
Consumers Association of Malawi Executive Director John Kapito said maize prices will continue rising due to low supply on the market.
The 2022-23 farming season faced challenges due to scarcity of farm inputs especially fertiliser, below par Affordable Inputs Programme performance and natural disasters, among others.
Let us know what you think of this article and remember to add us on our facebook and follow us on our twitter. Come back daily for more Malawi business news.
Quick Links: Download Business eBooks | Ten Signs You Are An Entrepreneur | What is a Managing Director?
Latest posts by Vanessa Banda
(see all)