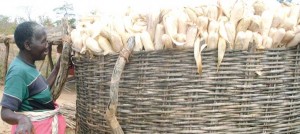 Maize prices down | The Times Group
Maize prices across the country have gone down by three percent as of November, according to an update released by the International Food Policy and Research Institute (Ifpri).
In the report, Ifpri says there is no evidence that the lifting of the maize export ban has improved maize prices for local farmers and traders as new stock is now selling at an average price of K95 per kilogramme (kg).
" For instance , t w o Malawian markets were reported to have the lowest retail maize prices in the region and only two out of the 15 markets in country reported price increases in the month under review, while three markets reported no price change," the report says.
Ifpri further says most of the markets reported price decreases of between two and nine percent.
"Although the largest price decrease was reported in the Central Region, the South reported the largest number of markets with price decreases. Maize prices were highest in the Southern Region and lowest in the Central Region," part of the report says.
While lowering of the prices does not auger well with expectations of local traders, the situation could drive inflation further down, thereby having a positive effect on the cost of living.
Latest posts by Vanessa Banda
(see all)