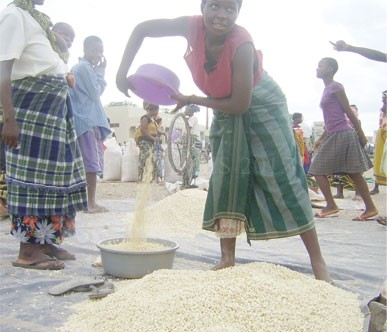 Maize prices go up – BNL Times
Maize prices go up
Maize prices have started going up in some parts of the country, threatening an increase in food inflation.
Inflation, in most cases is driven by the prices of food like maize which is the country's staple food.
Random checks in Blantyre and Lilongwe cities, indicate that maize prices have gone up by K1,500 and K2,000 respectively.
In Blantyre a 50 kilogram bag of maize is selling at K6,500 from K5,000 while in Lilongwe the same bag is selling at K7,000.
One of the traders in Limbe, Evans Saeluzika said most traders are anticipating that the maize prices will go up to K10,000 per 50 kilogramme bag of maize in due course.
"We are anticipating that the prices will continue going up and most traders have removed their stock from the market," he said.
Civil Society Agriculture Network (CISANET) projected a drop of between 30 to 40 percent in maize production in the 2014/15 farming season.
CISANET Executive Director Tamani Nkhono- Mvula said the substantial decrease in harvest follows the recent floods that swept away crops and drought in some parts of the country.
"Our projections are that the country is likely to face a huge reduction in yield compared to previous years," he said.
In January last year, maize prices surged to K10,000 per 50 kilogramme bag of maize on the local market.
The Minister of Finance Goodall Gondwe announced that the government will set aside US$20 million from the 2015/16 national budget to buy maize from neighbouring countries to caution the price increase threats.
Latest posts by Vanessa Banda
(see all)