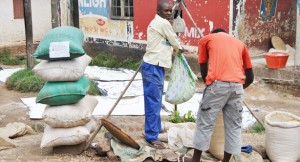 Maize prices likely to continue rising
The Center for Social Concern (CfSC) has warned that maize prices will continue to skyrocket if the government does not do anything to stop parallel markets from influencing prices for the staple.
CfSC programmes officer for Economic Governance Mathias Kafunda said in an interview on Tuesday that traders have started hoarding the grain in the hope of selling at exorbitant prices once it becomes scarce.
A spot check we conducted in major cities of the country indicates that the staple food is on average now being sold between K 8, 000 and K 10, 000 per 50 kilogramme bag.
"The price of maize has increased substantially over the recent past and this is pushing the cost of food higher. The prices are much higher than the case normally is in such months of the year," said Kafunda.
He then called on government to consider replenishing the market quickly through the Agricultural Development and Marketing Corporation (Admarc) as one way of controlling prices of maize on the market.
"The plan by government to import maize from other countries for both reserves and market supply should be implemented with speed so that the situation does not become worse than it already is," he said.
Speaking in a separate interview, Chief Executive Officer for the National Food Reserve Agency Nasinuku Saukira said the agency plans to start buying maize from the market in July to restock the reserves.
He said the firm plans to procure close to 50 thousand metric tonnes of grain from the local market.
"The agency cannot go and buy maize from the market now. But, we will soon start buying from the market and we need low moisture content maize for the reserves," said Saukira
Meanwhile, it has been reported that the country is seating on 44 thousand metric tonnes of maize in its reserves, down from 55 thousand metric tonnes recorded at the end of last year.
Latest posts by Vanessa Banda
(see all)