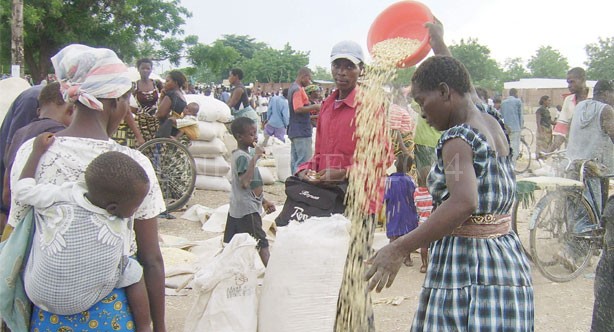 Maize reserves at 55,000 tones
Malawi government says it has 55,000 metric tones of maize in the national grain reserves, which is just 5,000 tones below the 60,000 tones recommended for the country's national food reserves.
The Civil Society Agriculture Network says based on the figures from the government, the country may be in the comfort zone taking into consideration that government would be systematic in releasing the grain to the market.
Ministry of Agriculture spokesperson Sara Chowa said on Friday that apart from the reserves, the country has adequate maize stocks on the market and that the government does not national expect food shortages until the harvest in March next year.
She said the National Food Reserve Agency is still stocking maize for strategic response, especially in areas where food shortages have been reported.
Chowa said government will stock up enough maize in the reserves to enable it respond to any food shortages that may arise in the coming months.
"There is no basis for speculating food crisis in the country since even for those reported to be food insecure, plans are already there to assist them with maize, oil and soycorn blend," she said.
Figures sourced from the ministry indicate that from the 2013/2014 production estimates, Malawi produced 3,978,123 metric tons of maize, showing an increase of 9 percent from 2013/2014 production year.
With the national food requirement estimated at 3,000,000 tones a year, the maize production figure means the country has 987,123 tones in surplus maize.
Chowa said the amount of maize available on the country's markets is clearly showing that there is enough maize in the country.
"With this continuous supply of maize in markets, it is seen as a good indicator of enough maize in the country," said Chowa.
In an interview yesterday, Civil Society Agriculture Network (Cisanet) National Coordinator, Tamani Nkhono Mvula, said if the maize in the reserves is well taken care of and does not get rotten as it happened last year, the country may be safe.
"The maize in the silos is quite substantial," he said.
The November, 2014 Malawi vulnerability assessment report shows that 695,591 people in the country will have food shortage in 2 to 4 months.
Latest posts by Vanessa Banda
(see all)