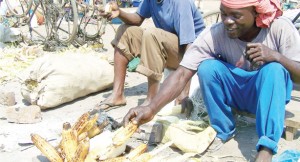 Maize seed price hiked 40%
Hybrid maize producers have increased the price of maize seed from K5000 to K7000 per five kilogramme bag at a time when government has abolished its traditional maize seed subsidy.
Under the Farm Input Subsidy Programme (Fisp), farmers were purchasing the five kilogramme bag of maize seed at K150 using a coupon.
Monsanto Malawi implemented the increase on September 1, 2015 and its Country Director Martin Isyagi justified the change based on increased production costs that producers have to meet in the current economic climate.
"The cost of production has gone up. Some of the materials used in seed production are imported and looking at the performance of the Malawi Kwacha against major trading currencies, it is unrealistic to maintain the price," he said.
However, Isyagi played down the impact the price increase would have on farmers.
"Farming is business and growers would understand that the higher the production, the lower the production cost, hence the higher the profits. From a five kilogramme bag of maize seed, a farmer is able to produce 40 bags of maize.
"A bag of maize is currently going at K7,000, so too the new price of a five kilogram maize seed bag. Simple arithmetic will tell you that the farmer is making more than what he has spent on the seed," said Isyagi.
Funwe Seed Marketing Manager Wed Chipungu also cited increased production costs as being the major driving factor for the price adjustment.
"There are several factors that we look at. There is pest and disease control, labeling and packaging and other factors. Prices have gone up for all these inputs," he said.
Seed Co Malawi also confirmed in an interview that the company is currently working on a new price list to be released later this week.
However, Seed Co sales and marketing manager Hannock Madeira said the company would offer competitive prices so that farmers are able to access the seeds at an affordable price.
"I cannot refuse or deny that there will be changes in our maize seed prices. We are working on it. Whatever the outcome, as Seed Co, we are going to set competitive prices on the retail market," said Madeira.
(Visited 66 times, 66 visits today)
Latest posts by Vanessa Banda
(see all)