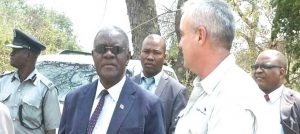 Majete Wildlife Reserve Big 5 attracts more tourists
The re-introduction of the Big Five at Majete Wildlife Reserve has helped increase the number of tourists that visit the park.
The exercise of re-introducing the Big Five— referring to lions, leopards, elephants, buffaloes and black rhinos— started in 2003, thanks to the partnership with African Parks Majete.
This was disclosed last week when Minister of Natural Resources, Energy and Mining, Aggrey Masi, visited Majete.
Majete Wildlife Reserve Park Manager, Craig Hay, said they have added 2,559 animals to the park between 2003 and 2012.
"The number has increased to over 12,000 animals today. This is a fantastic park to visit and, being the only big five park in Malawi, it gives tourists a chance to enjoy nature," Hay said.
According to Hay, the park was able to generate over $400,000 from over 8,000 guests in 2016.
He said the money was directed back into the park as it still largely depends on donor funding.
In his remarks, Masi, expressed satisfaction with the way the wildlife reserve has been operating since African Parks took over management from the Department of Parks and Wildlife.
Masi also said the amended National Parks and Wildlife Act of 2017 has provided stiffer penalties for wildlife crimes.
"Realising that wildlife crime has become a part of organised crime, it became important for various law enforcement agencies of the government and other stakeholders to tackle the issue entirely," Masi said.
Masi further called on Malawians to take the initiative in embracing the tourism sector as a revenue making industry.
(Visited 51 times, 51 visits today)
Latest posts by Vanessa Banda
(see all)