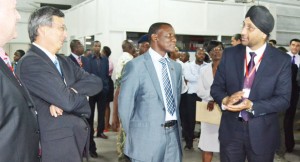 'Make new vehicles accessible to Malawians'
At the time Malawi has turned into a global dustbin with second-hand vehicles dominating the country's roads, government has challenged motor vehicle companies to make new vehicles accessible to Malawians
Transport and Public Works Minister Francis Kasaila was speaking in Blantyre on Friday during the official opening of a refurbished spare parts outlet at Toyota Malawi in Blantyre.
Kasaila said Malawians need to start driving new cars as a way of saving the environment.
He observed that second-hand vehicles contribute significantly to degradation of the environment due to high levels of carbon dioxide emissions.
"It is, therefore, important that we should work towards reducing the number of old vehicles on our roads if we are to be mother nature friendly," he said.
He also challenged Toyota Malawi to find a way of changing the belief among Malawians that spare parts at Toyota Malawi are expensive.
"I would like to assure Toyota Malawi of the government's continued support and I would like to urge all Toyota owners in Blantyre and surrounding areas to buy genuine parts at Toyota Malawi which now boasts of world class facilities both in the parts warehouse and sales counter.
"Genuine Toyota parts sourced from Toyota Malawi are of high quality, durable and reliable," said Kasaila.
Toyota Malawi Managing Director Avinder Reel said the company has invested K80 million to refurbish the parts sales outlet, describing it as a clear testimony of the company's commitment to continue contributing towards the development of the transport sector in Malawi.
Reel said the company's next project is to refurbish its Lilongwe showroom to a tune of K300 million.
"Further to this, plans are underway to construct a modern and world class 3s facility in Lilongwe which is estimated to cost K4 billion," said Reel.
He indicated that the company recently reviewed its pricing structure with the support from its shareholders, adding that Toyota Malawi is now offering more competitive prices.
Reel noted that despite the difficult economic times the country is going through,
Toyota Malawi from September 2015 launched a promotion that offers 20 percent discount on all genuine parts sold at the counter and 25 percent discount on all genuine parts fitted in its workshop.
Japanese Ambassador to Malawi Shuichiro Nishioka applauded Toyota Malawi for its role in creating jobs, providing trustworthy and reliable products and services in the transport sector, in addition to being highly committed to remitting taxes to the Malawi government.
He encouraged the Malawi government to continue with its efforts to provide a conducive business environment to attract more Japanese and foreign investors.
(Visited 69 times, 69 visits today)
Latest posts by Vanessa Banda
(see all)