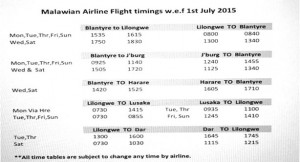 Malawi Airlines Cancels Lilongwe -Blantyre morning flights
Malawi Airlines has removed the morning flights from Blantyre to Lilongwe on their schedules and has instead shifted it to afternoon hours, a development that has surprised some business people who have found the flights convenient to their business travels.
Malawi Airlines public relations officer, Maganizo Mazeze, could not immediately provide an explanation on the development when contacted yesterday, but The Daily Times has established that since the beginning of this month, the airline is no longer operating the morning flight from Blantyre to Lilongwe which used to run daily.
Instead, Malawi Airlines is flying from Blantyre to Lilongwe at 3.35 pm on Monday, Tuesday and Thursday and at 5:50pm on Wednesday and Saturday. It is, however, still flying from Lilongwe to Blantyre at 8:00am and at 1:00pm daily.
The morning flight from Blantyre to Lilongwe made it possible for business people and other travelers to fly to Lilongwe, do their work during the day and fly back to Blantyre using the evening flight.
The current flight schedule, however, makes it impossible for the travelers to return to Blantyre on the same day due to flight timings.
The travelers from Blantyre to Lilongwe, among other things will now face the added costs when they travel to the capital city as they may be forced to spend on accommodation as they wait to take the morning flight from Lilongwe.
The cancellation will also affect international travelers who have used the convenient flights between Blantyre and Lilongwe to their advantage when on business or other visits in Malawi.
And Malawi will become one of the few countries in the southern African region without full return flights between its key cities as most other countries have domestic flights to and from their major cities on the same day.
Blantyre-based businessman, Ewan Hiwa, said he is one of the fliers who will be inconvenienced by the change in the flight schedule.
"I go to Lilongwe frequently but now it's very difficult as I have to spend more days in Lilongwe than I need now that this daily flight is not there," said Hiwa.
"Where I could return same day, I will now have to spend a night because the morning flight from Blantyre has been cancelled. I'm now better off driving," said Hiwa.
(Visited 1 times, 1 visits today)
Latest posts by Vanessa Banda
(see all)