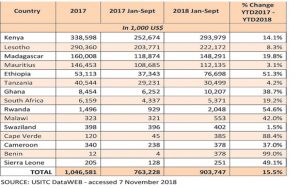 Malawi apparel exports to US up
By Taonga Sabola:
Malawi's earnings from exports of apparel to the United States (US) under the African Growth and Opportunity Act (Agoa) inched up by 19.8 percent in 2018 as compared to 2017, the African Cotton and Textile Industries Federation (Actif) indicates.
In its latest newsletter, Actif says Malawi exported $553,000 worth of apparels between January and September 2018, which is above the $321,000 realised during the same period last year.
In 2016, the country exported apparels worth $323,000 to the US.
However, despite the jump, Malawi's earnings from apparel remain at a distant position 10 far behind Africa's top exporter, Kenya, which realised $293.9 million in 2018 up from $252.6 million in 2017.
Other top African exporters of apparel to the US under Agoa are Lesotho, Madagascar, Mauritius, Ethiopia, Tanzania, Ghana, South Africa and Rwanda.
According to Actif, designated African country use of the apparel provisions of the US Agoa legislation is starting to pick up.
Actif says the increasing level of apparel exports from the African continent can be attributed to the decision of the US government to make the trade preference programme operative for a period of 10 years.
Agoa is now set to expire at the end of September 2025. This was a position that Actif lobbied for. The decision has resulted in substantially more investments in the African value chain as investors, supported by African governments, committed to constructing more buildings, adding plant and machinery and to training an expanding workforce.
In November this year, the US Office of Textiles and Apparel reported that imports of apparel were 2,713.6 million square metre equivalents (MSME) in September 2018, up 5.1 percent from September 2017. Imports of textiles and apparel were 50,779.9 MSME for the year-to-date September 2018, an increase of 4.9 percent from year-to-date September 2017.
Actif has a mission of promoting trade and increasing market access for the cotton, textile, and apparel industry in Africa. This mission is informed by its vision, which is an integrated cotton textile and apparel industry that effectively competes on the world market.
Actif is in a strategic position to influence favourable policies that could address regional and international issues to cartelise the growth of the industry in Africa.
Latest posts by Vanessa Banda
(see all)