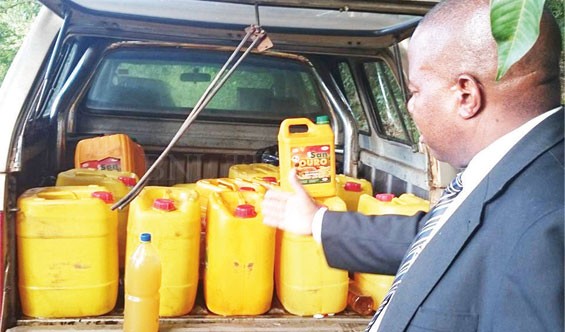 Malawi Bureau of Standards cracks down on unrefined cooking oil dealers
Malawi Bureau of Standards cracks down on unrefined cooking oil dealers
The Malawi Bureau of Standards (MBS) Chief Executive Officer Davlin Chokazinga has issued a stern warning to people who are involved in smuggling and selling of unrefined and uncertified cooking oil in local markets across the country.
On Wednesday and Thursday last week, MBS confiscated many litres of unrefined and uncertified cooking oil from traders who do ply their trade in some trading centres of the border district of Mulanje.
Most of the confiscated cooking oil, which forms a larger part of the oil that is found in many local markets in the country, is believed to be coming into the country from neighbouring countries, including Mocambique and Zambia.
Speaking before the disposing off of the confiscated cooking oil, Chokazinga said if the businesspersons continue with the smuggling and selling of such kind of cooking oil, the bureau will have no other option but to commit them to court in accordance with the MBS Act.
"We know that through this exercise, importers and smugglers are losing financially as they have spent money to buy this [confiscated oil]. But once we come again, the strategy would be to commit them to court.
"We will start prosecuting them so that chapter 51: 02 of the MBS Act should take its course. It is a new Act, revised in 2012 and it has a lot of stiffer penalties. So, if we take such people to court, they will be able to face the law and surely it will set a lesson to others," Chokazinga said.
He said through the exercise, the MBS will comprehensively engage its inspectors to go to different markets in all districts in the country and confiscate all the uncertified cooking oil.
Chokazinga said cooking oil of such nature is dangerous to human health and they create health pressure not only on the people using them but the country's health system.
"That is why we insist that people, whatever the case, need to buy oil that is approved by MBS as oil that is well refined and certified as suitable for human consumption," he said.
Latest posts by Vanessa Banda
(see all)