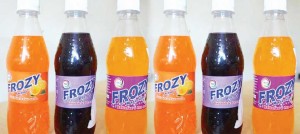 Malawi Bureau of Standards to clear Frozy from selling points
Malawi Bureau of Standards (MBS) is expected to start clearing Frozy from all selling points beginning Monday next week.
Most Retail shops are still selling Frozy despite the ban on its distribution and sale announced by the Malawi Bureau of Standards last week.
MBS banned the importation and sale of Frozy, a fizzy drink manufactured in Mozambique, for failing to meet required quality standards.
According to the bureau, the drink failed to conform to standards as stipulated by MBS under the import quality monitoring scheme.
But despite MBS warning the public from consuming the banned product, some people are still purchasing the product.
MBS Chief Executive Officer, Davlin Chokazinga, told The Daily Times that the bureau will start clearing Frozy drinks in all shops from next week.
"We gave a notice period for all people s tocking Frozy to clear their stocks and we also gave a notice to all buyers to stop purchasing the drink. Therefore, from next week, MBS will start clearing Frozy drinks in all selling points," Chokazinga said.
MBS earlier said it will penalise and prosecute anyone found stocking, distributing and selling Frozy in accordance with section 44 of the MBS act.
According to MBS investigations, Frozy has high levels of citric acid and sodium benzoates against the maximum specification which are likely to cause some health problems in the long term like stomach complications.
(Visited 136 times, 136 visits today)
Latest posts by Vanessa Banda
(see all)