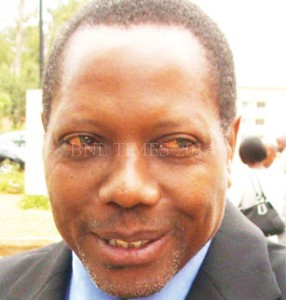 Malawi Chamber of Commerce rues 2014 in business
The Malawi Confederation of Chambers of Commerce and Industry (MCCCI) has described 2014 as a very bad year for the business sector, singling out the K170 billion debts that the government owes the private sector as a major hitch to several businesses in the year.
MCCCI President Newton Kambala said most companies have struggled to finance their operations in the year ending, the situation which has sharply reduced their turnovers.
"Honestly, in terms of business, we have not done much in Malawi and I am very surprised to read economic write-ups where they are saying there is a projection of the GDP [Gross Domestic Products] growth of about 5.8 percent. I don't see where such projections are coming from because most of the companies I have spoken to, have reduced their turnovers.
"If I can give you an example of our company [Mkaka Construction Company], our turnover was reduced to about a quarter and most of the companies I have spoken to, have reduced by half and some of them even more than half and I don't know how the GDP would grow by 5.8 percent. It has been a very bad year," Kambala said.
He attributed the problem to Cashgate which halted the donor financial flow into the government coffers thereby affecting the settlement of arrears saying if the situation persists, 2015 will be worse.
"We had Cashgate where the government lost a lot of money and we also lost our goodwill for donors to assist in financing the
annual budget thereby affecting the repayments to the private sector. Because of that we do not have enough money to do most of the projects. We have seen that government is also struggling to collect enough revenue through MRA [Malawi Revenue Authority] because a lot of companies are not productive and if this continues next year will be worse than what we have seen," he said.
MCCCI President suggested that the government should continue asking donors for budgetary support or convince donors to just settle the arrears.
"If the donors cannot channel their money through the government system, they should convince them to just consider paying all the arrears, so that the private sector can begin to be productive again and pay tax as we normally do and be able to support the next budget," Kambala said.
Economist Ben Kalua said what the country needs is better economic governance and diversification.
"These people [leaders] target and are excited about the ceremonies instead of sitting down and thinking through things. The implementation has been poor, actually from previous regimes and I am afraid there are signs this regime may also fail. Implementation of economic programmes needs some thoughtfulness but we appear not to be thoughtful about what we do.
"We have to ensure that we don't just mess up in government expenditure and then diversify our economy. Russia is a big economy, their economy is very big than that of Malawi but it is currently on its knees right now because their economy is not diversified. They heavily rely on oil and we too much rely on tobacco and sugar which is bad for our economy," Kalua said.
In his state of the Nation Address last Saturday President Peter Mutharika admitted the economy is in bad shape but said his government is doing everything possible to get the economy on the right track.
"The past three months have seen our currency lose close to a quarter of its value in relation to the US dollar, and the impact shows strongly through inflation arising to the associated rising costs of our imports. This inflation has exerted pressure on interest rates, hence lowered private investment and employment.
"I am hopeful that the domestic currency may even appreciate soon, because we are doing everything possible to get the economy on the right track. Government has put in place policies that will translate into increased exports in order to increase foreign exchange earnings which are needed to defend the domestic currency," Mutharika said.
Latest posts by Vanessa Banda
(see all)