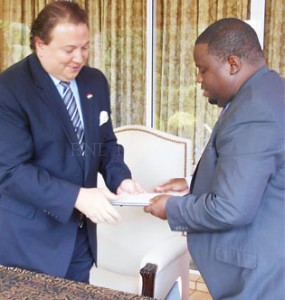 Malawi, Egypt sign tourism agreement
Malawi has signed a tourism agreement with Egypt as part  of efforts to develop tourism through cooperation with key tourism countries.
The agreement with Egypt is the second within weeks after an earlier one with Zimbabwe.
Minister of Information, Tourism and Culture Kondwani Nankhumwa, who signed the agreement with Egyptian ambassador to Malawi, Maher El-Adawy, said the agreements were part of the government's effort to increase the sector's contribution to the economy to 15 percent from 7.8 percent currently.
He said the Department of Tourism intends to implement a five year strategic plan that will facilitate the development of the sector to create 240,000 jobs from 140,000 currently.
He said the Malawi government considers the partnership with Egypt as ideal and strategic in as far as tourism is concerned.
"We're aware that Egypt has also launched its 2020 Tourism strategy targeting 20 million tourists and US$20 billion in earnings," said Nankhumwa.
He appealed to the Egyptian envoy to assist in persuading Egypt Air to launch flights into Malawi.
On his part, El-Adawy said Egypt has already committed on a number of areas that will help strengthen the bilateral relationship and promised to facilitate more initiatives in tourism and investment.
He said the current doing business environment could open up more trade and investments between the two countries.
"Many Egyptian investors have started to knock on the door of Malawi to study the possibility of opening businesses, taking advantage of the incentives and current reform initiatives taken by the current government to enhance the role of the existing Egyptian investors on the ground," said El-Adawy.
Egyptian businesses already operating in Malawi include Afro Egypt, Cleopatra, Nasr Furniture and Blue Bus.
El-Adawy said the only way forward for African countries is to enhance cooperation among themselves on the continent to be able to utilize the vast potential on the continent.
Latest posts by Vanessa Banda
(see all)