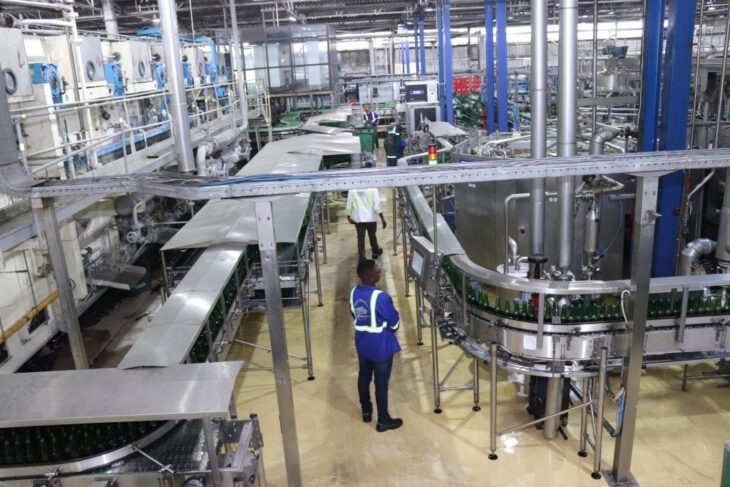 Malawi falters on boosting industry
Malawi has for the past 10 years failed to improve on industrialisation due to gaps that hinder private sector development such as poor infrastructure and lack of connectivity to markets, it has been learnt.
Out of 52 countries in Africa, Malawi anchors the bottom 10 countries and is on position 43 down from 36 in 2010, according to Africa Industrialisation Index.
Production in progress at Castel Malawi brewery plant in Blantyre
Reads the report in part: "The country's score has decreased in all dimensions of the index, attesting to the low effectiveness of the national industrial policy adopted in 2014, which aimed to address the gaps that hinder private sector development such as poor infrastructure and lack of connectivity to markets.
"Looking forward, the small market size and landlocked country could harness its potential in agriculture-led industrialisation, with an increased focus on tapping the domestic and regional markets."
The report shows that Malawi is among 10 main losers in the ranking alongside Angola, Mali, Congo Brazaville, Cape Verde, Sudan, Seychelles, Zimbabwe, Lesotho and Niger.
It further says these countries remain at the bottom of each index component and are experiencing significant de-industrialisation as many of them are fragile States or emerging from conflict.
The report says Angola, Mali, Congo Brazaville, Cape Verde, Sudan, Seychelles, Malawi, Zimbabwe, Lesotho and Niger experienced the biggest drop in the ranking.
Commenting on the report, Malawi Confederation of Chambers of Commerce and Industry president Lekani Katandula said he hopes Malawi 2063, the country's long-term development plan, can help turn around the fortunes if the country implements what is outlined on industrialisation.
He said: "We already have that roadmap and what is needed now is to stay true to that and implement it.
"We must have clear timelines, resources and regular checks of what was supposed to be done by who and hold each other accountable otherwise we may not realise that dream."
Katandula said Malawi needs to have a clear path with regards to what would boost industrial production, further calling for liberalisation so that players can get the full export value of their earnings.
"We need to look at whether when people industrialise and export, they can get all their export proceeds at market driven exchange rates or rates based by the regulator that may not represent what is on the market," he said.
Development expert Chandiwira Chisi said without industrialisation, Malawi has become a dumping site for finished products.
He said: "This is not a journey of faith. You have to do the right things. We have done a lot of talking, we can't get anywhere if we continue doing things the same way."
Speaking in an interview on Monday, Minister of Trade and Industry Mark Katsonga Phiri blamed the situation on liberalistion, saying that governments have not been paying attention to revamp industries, but instead allowing foreign companies to bring their goods in the country.
He said: "We are putting up cooperatives, because that is where industrialisation starts.
"We are even setting up special industrial zones and export processing zones where we have to set up factory shells where we invite investors to come up with their own buildings."
Katsonga Phiri said government is also intensifying training programmes through Small and Medium Enterprises Development Institute and Technical Entrepreneurial and vocational Training Authority to unlock industrial potential.
The MW2063 First 10-Year Implementation Plan shows that industrialisation has stagnated mainly because of high production costs due to inefficiencies in energy and transport as well as poor standards leading to non-competitive products on international markets.
But the plan indicates that the local industry has a lot of opportunities which include the availability of minerals that could be exploited and transformed into high-value products.
Let us know what you think of this article and remember to add us on our facebook and follow us on our twitter. Come back daily for more Malawi business news.
Quick Links: Download Business eBooks | Ten Signs You Are An Entrepreneur | What is a Managing Director?
Latest posts by Vanessa Banda
(see all)