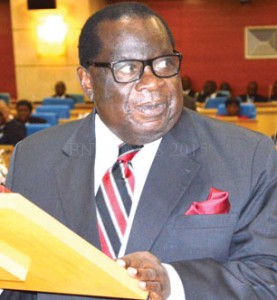 Malawi Finance Minister engages donors on budget
Malawi Finance Minister engages donors on budget
Finance Minister Goodall Gondwe presented the 2015/2016 budget framework to the Breton Woods Institutions and other development partners during the spring meetings held in Washington DC last week.
Spokesperson at the Ministry of Finance Nations Msowoya said in an interview that Gondwe also held aid effectiveness talks with various development partners.
"The minister met the World Bank vice president for Africa to discuss the World Bank on-going and pipeline project. He also met the UK Permanent Secretary for International Development and other development partners to share experiences on various issues of mutual interest," he said.
According to Msowoya, the Minister also held discussions with the IMF on the 5th and 6th review of the Extended Credit Facility (ECF) programme which was approved last month.
"Gondwe also presented the state of the country's economy to the fund and other partners apart from hosting a forum on aid effectiveness to the country," he said.
Gondwe recently held consultative budget meetings with various local stakeholders to be incorporated into the next financial plan which is pegged at about K900 billion.
Latest posts by Vanessa Banda
(see all)