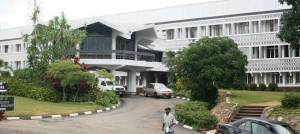 Malawi government in K34.4 billion deficit in August
Capital Hill found itself in a K34.4 billion fiscal deficit in August as expenditures far outweighed revenue collected, a Reserve Bank of Malawi monthly economic report for August has shown.
Reserve Bank of Malawi (RBM) said total government expenditures significantly rose by 43.0 percent in August to K103.2 billion compared to a decline of 38.8 percent registered in the month of July 2016.
The increase in expenditure, according to RBM, was observed in both recurrent and development expenditures.
"Recurrent expenditures increased considerably to K71.9 billion from K32.0 billion in July 2016. The increase in recurrent expenditures was due to external transfers, salaries and statutory expenditures.
"External transfers increased by K19.1 billion of which K16.0 billion was for the purchase of maize to address the food supply deficit.
Government salaries and statutory expenditures increased by K15.9 billion and K7.3 billion, respectively," reads the report in part.
It further said development expenditures, similarly, grew to K14.9 billion from K9.0 billion.
On the other hand, total government revenues in August declined by 8.6 percent to K68.9 billion, following another decline of 6.3 percent in the previous month and compared to a decline of 12.6 percent to K55.4 billion registered in August 2015.
The outturn, according to RBM, was attributed to a decline in both domestic revenues and foreign inflows.
"Domestically mobilised resources declined by 1.0 percent to K64.6 billion due to a decrease in tax revenues. The Malawi Revenue Authority tax collections declined by 2.6 percent to K60.6 billion.
"On the other hand, non-tax revenues increased by 32.2 percent to K4.0 billion. Foreign receipts for the month of August 2016 decreased by 58.0 percent to K4.2 billion from another drop of 14.5 percent recorded in July 2016," says RBM.
The central bank added that of the total foreign inflows, K3.7 billion ($5.3 million) were inflows from World Bank for Agriculture SWAPs and K0.5 billion ($0.7 million) was miscellaneous project funds.
"The fiscal deficit was financed using domestically mobilised resources," reads the report.
Treasury Spokesperson, Nations Msowoya, could not be reached to comment on how the budget has faired in September and October.
(Visited 70 times, 70 visits today)
Latest posts by Vanessa Banda
(see all)