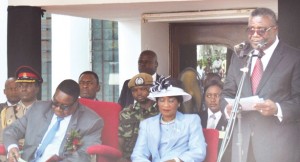 Malawi government must pay arrears, says MCCCI
The Malawi Confederation of Chambers of Commerce and Industry (MCCCI) has urged the government to pay the K157 billion arrears which it owes to the private in order to bring back vitality in the sector which, it says, has been lost due to cash flow problems.
MCCCI Vice president Arthur Chirwa, whilst addressing State President Arthur Peter Mutharika during the official opening of this year's 27th trade fair, bemoaned the reduced number of participants at the trade fair and attributed this to cash flow problems currently affecting the sector.
"It is our sincere hope that the public finance management reforms you launched will be implemented to the letter and bear fruits in order to win back the confidence of donors," said Chirwa.
This year's fair has seen a reduced number of pavilions from last year's 250 to 213 a development which Chirwa said is mainly due to shrinkage of market and expressed optimism that this year's budget will endeavor to settle arrears so that the business can get back to normal.
He said lack of direct support to the budget, high cost of borrowing and the K157 billion arrears government owes to private sector are some of the key factors that have negatively affected the performance of the private sector in the country.
Chirwa also explained the reasons for the insignificant change in the mix of products manufactured here in Malawi from the previous year's, saying the situation reflects a fundamental challenge the industry is currently mainly due to the absence of dynamism.
During the opening of the fair whose theme is "Achieving regional Integration through trade", Mutharika said there is no country in the world that has grown on its own without participation in the global world.
He said it is through participation in economic integration in trade that small countries like Malawi grow.
On his part, Minister of Trade and Industry, Joseph Mwanamvekha, said the theme of the fair has coincided with the soon to be launched Tripartite Free Trade Area (TFTA) which will see the integration of 26 African countries from Comesa and Sadc.
"The theme is a reminder of the opportunities that regional integration is going to make available to Malawi's economy. What we need to do is to be aggressive in our productive sector as well as in trade promotion," said Mwanamvekha.
Latest posts by Vanessa Banda
(see all)