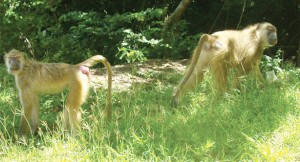 Malawi government plans restocking of Dzalanyama forest
The Department of Wildlife has been moved to the Ministry of Natural Resources, Energy and Mining from the Ministry of Information, Tourism and Culture.
Minister of Natural Resources, Energy and Mining Bright Msaka said his ministry now has the task of looking after national parks and game and forest reserves following the moving of the wildlife department to the ministry.
He said their immediate job would be to re-stock Dzalanyama forest reserve in Lilongwe with new animals.
Msaka said Dzalanyama is currently well secured with game rangers and other types of security.
"At the moment, there is enough security for the place," he said.
The Malawi Defence Force has lately also been involved in the provision of security at Dzalanyama.
"We have a plan lined up to re-stock Dzalanyama with some animals so that within the capital city, we can have a tourist attraction with wildlife animals," he said.
He said the re-stocking process will not need much funding as the forest already has some animals.
"What we need to do is just to bring some new animals and in the long run we will have a variety of animals within the forest," said Msaka.
He said the ministry will also embark on a community sensitisation drive on the need of their involvement in taking care of the forest reserve.
"Communi t ies need to know that even where an animal moves out of the forest, it is their responsibility to take it back into the forest," said Msaka.
He said in the long run, plans are there to construct a perimeter fence around the reserve as one way of protecting the animals
(Visited 6 times, 6 visits today)
Latest posts by Vanessa Banda
(see all)