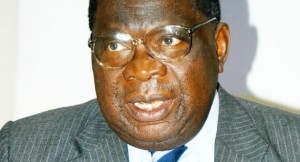 Malawi government plans taxes for informal sector
A lack of resources that continues to cripple fiscal performance following the withdrawal of budget support by donors has forced government to consider capturing more Malawians into the tax net.
With expertise of the International Monetary Fund (IMF), government will possibly impose some taxes that target the informal sector which constitutes the largest section of employment and annual turnover in the country.
Minister of Finance, Economic Planning and Development Goodall Gondwe disclosed in an exclusive interview last week that a team of experts from IMF will be in the country soon to review the tax administration.
"We are already looking into our tax regime and our friends from the IMF who are the experts in this area will assist us to review," said the minister.
He did not mention specific people or sections of the society that would be targeted during the review but indicated that a taxation system that captures more from the informal sector will be put in place in an attempt to expand the tax base and increase revenue.
Government revenue is currently made up of tax revenue, loyalties as well as fees and penalties and dividends from parastatals.
"We are looking at extending the tax base to see if some people can also be made to pay tax—we will look into that in fact we are already looking into that," said Gondwe.
A Centre for Social Concern (CfSC) write-up titled 'Malawi Tax System Perpetuates Inequality and Undermines State Citizen Accountability' shows that the tax system in Malawi is generally characterised by low levels of tax collection and particularly a failure to tax income and wealth branding it as retrogressive.
Meanwhile, the civil society, led by Malawi Economic Justice Network (Mejn), launched a tax justice campaign which among others seeks an increase of corporate tax share to the overall tax revenue basket from the reported 16.5 percent share to at least 35 percent.
A recent FinScope survey revealed that the Micro Small and Medium Enterprise sector, whose 91 per cent of businesses operate informally with no registration, makes at least US$1 billion in annual turnover, employing more than the formal sector.
It is suspected that most of these businesses and their workforce are not paying taxes as the current tax administration is too weak to capture these income earners.
(Visited 21 times, 21 visits today)
Latest posts by Vanessa Banda
(see all)