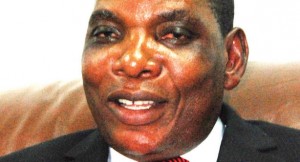 Malawi government to push for MIF deals
The Minister of Industry and Trade Joseph Mwanamvekha has said it will continue pushing investors who made commi tments during last month's Malawi Investment Forum.
Mwanamvekha said whilst several deals were clinched, the ministry will not relent but make sure the deals are fruitful.
He said for the past years the country has failed to follow up deals, but now measures have been put in place to make sure there are proper follow ups.
"We are here to make sure that we walk the talk and finish the journey we have just started. As a line ministry, we will be knocking on the doors of other related ministries that are supposed to provide information and grant special licences to investors like mining and energy," said Mwanamvekha.
He further said the ministry has arranged for a postmortem meeting of the forum and each deal will be followed.
"We do not want to lose out on anything. There will be an after care division at Malawi Investment Trade Centre (MITC) which will be doing daily follow ups on the deals made. We will also make sure that the one stop centre is always vibrant and deliver superb services to our investors," he said.
The forum, which was described as a success by many, registered over $1.1 billion worth of investments.
Some of the projects that reached a preliminary understanding immediately after the forum included the Blantyre City Council MoU signing with the China- Zambia and China-Tanzania Friendly Cultural Exchange Program for the combined implemented of 11 projects in Blantyre.
The Briggs International signed an MoU with the gove rnment f o r the implementation of a multi-billion dollar rail system that will connect Lake Malawi down to the Port of Nsanje onto the Zambezi River to the Indian Ocean by-passing the 36-kilometre rapids on the Shire River and therefore connecting Lake Malawi to the Indian Ocean without barges having to off-load their goods.
Also the China Railways No. 3 Engineering Group Company Limited will be financing three projects which include, Kamwamba Coal fired Power Station valued at US$600 million, Railway construction and rehabilitation worth US$250 million and Mangochi Airport which will be funded to the tune of US$250 million.
(Visited 36 times, 3 visits today)
Latest posts by Vanessa Banda
(see all)