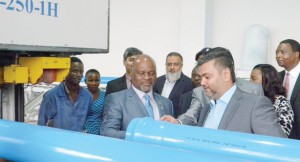 Malawi government wants Green Belt pipes produced locally
Malawi government wants irrigation pipes and other basic material being used in projects under the Green Belt Irrigation Initiative to be produced locally as one way of empowering industries in the country.
Minister of Agriculture and Irrigation, Allan Chiyembekeza, said this on Friday in Blantyre during a tour of OG Plastics – one of the companies which has embarked in the production of water pipes in the country.
Chiyembekeza said the Green Belt initiative is a huge project that is attracting local and foreign investors.
"Previously we used to import pipes from other countries which was a drain on our foreign exchange reserve. With companies such as OG Plastics, investors will not have problems in getting irrigation materials, especially pipes," he said.
He said already, OG Plastics is supplying the country's five water boards with pipes which show that the quality of the pipes is in line with international standards.
Chiyembekeza said he is satisfied with the quality and the production capacity at OG Plastics.
"I am impressed with the quality and capacity that I have seen here. As government, we will now be able to comfortably market the Green Belt," he said.
On his part, OG Plastics managing director, Wahab Jagot, said the company emphasises on quality and competitiveness, bearing in mind that the sector has many players.
He said OG Plastics produces enough for the local market and is also able to export.
"Quality is what we want to give our customers. So far we have not received any complaints in terms of quality," said Jagot.
"We are also producing for export and soon we are planning to enter the Zambian market," said Jagot.
He said the company has invested heavily in high tech machinery which has enabled it to produce any size of pipes as required by a customer.
"We are ready to support the government in the Green Belt initiative. We know that Malawi is an agriculture based economy and we are here to provide high quality materials," he said.
(Visited 23 times, 23 visits today)
Latest posts by Vanessa Banda
(see all)