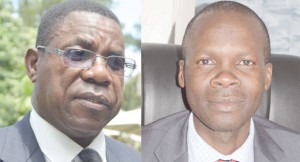 Malawi government won't fix Malawi kwacha
The Ministry of Finance says there are no plans by the government to change its current policy on the exchange rate and start fixing the Kwacha exchange rate in the wake of the continued depreciation of the local currency.
However, the Consumers Association of Malawi (Cama) believes it's high time the government considers fixing the exchange rate as there seems to be no other way out of the depreciation.
Ministry of Finance spokesperson, Nations Msowoya, said on Wednesday the government remains committed to the free flotation policy of the exchange rate.
"There are no plans to shift the policy," said Msowoya, adding: "The price of the kwacha will continue to be dictated by forces of demand and supply."
"This depreciation is not unique to Malawi," said Msowoya.
He said what government needs to do is just mitigate the challenges through other means and minimize the negative effect of the depreciation on consumers.
Speaking in an interview on Tuesday, Consumers Association of Malawi (Cama) executive director, John Kapito said, leaving the kwacha to market forces through the free floating policy would cripple the economy and hit consumers hard.
"The government should take control of the situation by fixing the exchange rate," said Kapito.
He also faulted the Reserve Bank of Malawi (RBM) for what he called "policy inconsistencies" which he said is fueling the weakening of the kwacha.
He cited for example a reversal by the central bank of its recent directive for commercial banks and other authorized foreign exchange dealers to maintain the spread between the buying and selling rates at K5.00, saying such moves influences uncertainty among players.
"The market is currently under fire and when the central bank comes, introduces policies and withdraws them before they even work, it becomes problematic," said Kapito.
RBM spokesperson Mbane Ngwira said last week, however, the policy reversal followed consultations with the relevant stakeholders.
The weakening of the kwacha has been attributed to reduced agricultural productions due to floods and drought, poor tobacco sales as well low donor inflows into the country.
The kwacha was trading at about K600 by Thursday.
(Visited 1 times, 1 visits today)
Latest posts by Vanessa Banda
(see all)