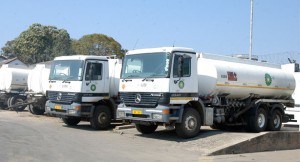 Malawi government yet to decide on new fuel system
The Malawi Energy Regulatory Authority (Mera) says it has renewed all 21 fuel importation licences as it awaits a decision to be made on whether or not Malawi should adopt the Bulk Procurement System as a means of cutting costs when importing fuel.
The new system will see government-owned National Oil Company of Ma l awi (Nocma ) becoming the sole importer of fuel for the country.
Mera Chief Executive Office Ellias Hausi said in an interview government was still consulting stakeholders and that it was too early to pass a final verdict on the matter.
"We have renewed all the 21 licences for all fuel importers until government directs what we should do next. Only after that will a decision be made weather t o withdraw or just freeze the licences," said Hausi.
At the moment most fuel importation for the country is done by a private firm, Petroleum Importers Limited (PIL).
"We would be open to any option, whether government would say it is Nocma, or PIL or a combination. Because it is possible for traders to combine, and buy one volume in a bulk and share when it comes to the country," he said.
Meanwhile, the Parliamentary Committee on Natural Resources, Environment, Energy and Climate Change says it has concluded consulting concerned parties on the matter.
Vice chairperson for the committee Alex Major said in an interview that the committee is now scheduled to review the situation in other neighbouring countries before making a recommendation.
Earlier, government commissioned a task force comprising officials from Mera, Nocma , PIL and the Ministry of Energy to visit Zambia and Tanzania last year to monitor fuel importation trends.
The taskforce recommended that Malawi needed to introduce a Bulk Procurement System as a means of cutting cost when importing fuel. Through the system, the country would be importing fuel in bulk which would give room to price negotiations for the commodity.
(Visited 20 times, 1 visits today)
Latest posts by Vanessa Banda
(see all)