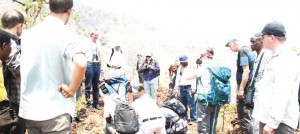 Malawi hosts international geologists conference
A group of 36 geological experts are in the country for a second expert council meeting which is expected to discuss new methods for mineralisation to benefit countries like Malawi with high potential for mineral deposits.
The group, which is under the Horizon 2020 HiTech AlkCarb project is developing exploration tools for critical raw materials in alkaline rocks and carbonatites and are in the country courtesy of Mkango Resources.
Director of Geology at the Department of Mines, Jalf Salima, said the coming of the foreign experts will help in identifying new methodologies used in the exploration of the carbonitites and alkalines.
Salima said the meeting is very important as knowledge will be shared between the foreign and local delegates.
"The interaction between the two groups will help Malawi boost its knowledge in the field of the alkaline and carbonitites rocks," said Salima.
Executive Dean at the Malawi University of Science and Technology (Must), Leonard Kalindekafe, said the meeting will enhance interaction and exchange of ideas.
Kalindekafe said the availability of the carbonitites and alkaline rocks sets a robust industry of rare earth elements for the country.
"Malawi has a lot of areas with carbonitites and this meeting puts Malawi on the world map. We will also be able to exchange ideas on models and theories for the formation of the sources of rocks we have and this information will be used by scholars to impart knowledge to geological students at Must and other colleges," Kalindekafe said.
In a separate interview, retired geologists, Allen Wolley, said Malawi has potential of high rare earths mineral deposits along the Chilwa Alkaline Province.
"The Chilwa Alkaline Province has since 1964 shown high mineral content, however, by then there was no demand for rare earths. But with the advancement in technology, the demand for the rare earths has also grown," said Wolley.
He further said China has dominated the rare earth market hence other countries are looking for alternatives.
(Visited 1 times, 1 visits today)
Latest posts by Vanessa Banda
(see all)