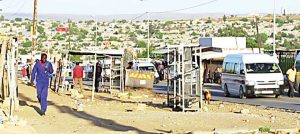 Malawi hosts tax experts | The Times Group
The African Tax Administrations Forum (ATAF) has urged revenue authorities within the African continent to systematically broaden their tax base but without hurting rural masses.
ATAF Executive Secretary, Logan Wort, made the call last week during the opening of a two-day international conference on Value Added Tax (VAT) held at Mouth Soche Hotel in Blantyre.
The conference attracted participants from 15 African countries and was held under the theme: 'Prioritising Domestic Taxes in Africa'.
"There has to be proper registration systems so that every business and organisation is properly registered. Tax administrators must make sure that employees from organisations have proper records as taxpayers and incorporate the various sectors that we do not usually tax here in Africa such as sports, entertainment and property.
"This will increase the citizenry contribution to taxes and it has the potential of reducing tax rates in the medium to long term," Wort said.
MRA Commissioner General, Tom Malata, commended ATAF
for the apt organisation of the meeting at a time developed economies overseas have cut donor support to developing countries.
"The impact of this has led to governments here in Africa to entrust more responsibility to tax administrations to mobilise domestic resources for effective implementation of national budgets and running of public services.
"Malawi has not been spared. For the past three years, the country is no longer receiving budgetary support from the international donor community. The Malawi Government has, therefore, been using taxes collected by MRA to initiate various development programmes as well as providing essential and critical social services to citizens," he said.
He encouraged delegates at the conference to ensure that African tax administrators are taking a leading role to sustain reduction of donor dependence through Domestic Taxes to achieve economic sovereignty.
(Visited 14 times, 2 visits today)
Latest posts by Vanessa Banda
(see all)