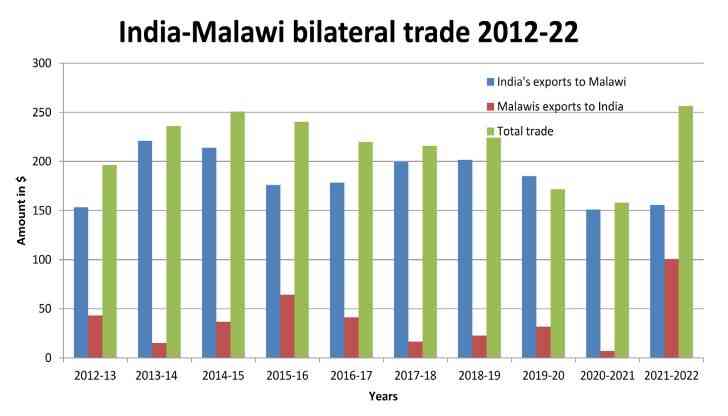 Malawi India trade balance narrows | The Nation Online
Malawi's trade balance with India has narrowed by 64 percent over the past three years, thanks to the Indian Government trade policy shift which has increased exports to the Asian country.
Data contained in a commercial brief on India-Malawi produced by the High Commission of India in Lilongwe shows that in 2022, imports from India stood at $155.74 million (about K161 billion) compared to exports at $100.69 million (K104 billion).
This created a trade negative trade balance of $55.05 million (K57 billion) in favour of India, which is Malawi's third largest export market.
This means that the trade gap between the two countries has narrowed from $153.3 million (K159 billion) in 2020 to $143.89 million (K149 billion in 2021, representing 64 percent.
Reads the commercial brief in part: "Malawi's exports to India are limited and primarily agricultural products mainly dried leguminous vegetables, including pigeon peas or unprocessed tool dal, chickpeas and other related pulses.
"Dried leguminous vegetables, which used to be the major item of export from Malawi to India have been affected due to the change in the trade policy on import of tool dal since August 2017. "
According to the data, exports of dried leguminous vegetables, including pigeon peas, to India fell from $39.32 million (about K41 billion) in 2016/17 financial year to $9.05 million (about K9 billion) in 2017/18 financial year, representing a 76.9 percent drop.
This was followed up by a recovery in imports of pigeon peas to $14.32 million (K15 billion) in the 2018/19 financial year.
Between April and December 2019, India imported pigeon peas worth $28.82 million (about K30 billion) from Malawi.
In comparison to the higher imports of pigeon peas previously, the trade policy on importation of pigeon peas to India affected Malawi both in foreign exchange earnings and an impact on farmers, who traditionally have been growing pigeon peas for the Indian market.
In June 2021, Malawi and India signed a memorandum of understanding on cooperation of 50 000 metric tonnes of pigeon peas export from Malawi every year for the next five years, which has improved Malawi's export basket to India.
Meanwhile, the Government of India has waived the 50 000 metric tonnes quota until March 41 2024, which means Malawi can export unlimited quantities of pigeon peas to India.
Ministry of Trade and Industry spokesperson Mayeso Msokera in an interview yesterday called on producers to utilise the available agricultural production and export financing facilities to facilitate their export financing needs.
"The ministry would like to urge pigeon peas farmers, the Nandolo Farmers Association of Malawi and local aggregators to take advantage of this unlimited market access opportunity by producing and mobilising more pigeon peas and tool dar for export to India," he said.
National Working Group on Trade Policy chairperson Frederick Changaya yesterday said not only does improved trade balance mean more economic activity, it also helps the country's macro-economic stability.
He said: "Foreign exchange rate, interest rate and inflation rates are moderated downwards with improving terms of trade.
"It is more encouraging since India is among top five countries we trade with and or import from."
On the other hand, Nandolo Farmers Association of Malawi chairperson Susan Chimbayo said while the removal of the 50 000 metric tonnes quota by the Indian Government offers opportunity for unlimited market and prospects of forex generation, it is difficult for smallholder farmers to tap into the market.
She said: "Pigeon peas markets are mostly dominated by Indians as the usual reason that the largest market is In dia itself, as such, for smallholder farmers to penetrate the market, it is quiet challenging as business is normally based on existing personal relationship."
Chimbayo said due to lack of capital, smallholder farmers cannot export on their own and invest in value addition. Malawi Government data shows that Malawi's major trading countries are South Africa, China, India, Belgium and Germany in that order.
Let us know what you think of this article and remember to add us on our facebook and follow us on our twitter. Come back daily for more Malawi business news.
Quick Links: Download Business eBooks | Ten Signs You Are An Entrepreneur | What is a Managing Director?
Latest posts by Vanessa Banda
(see all)