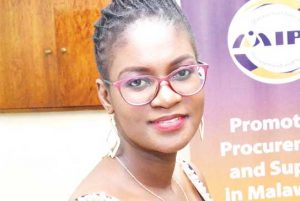 Malawi Institute of Procurement and Supply calls for partnerships
The Malawi Institute of Procurement and Supply (Mips) has appealed to different companies, organisations and individuals for partnerships during this year's annual lake conference slated for Mangochi from October 19 to 21.
Mips Business Development Officer, Dorothy Chikoya, said in an interview on Friday that there are many benefits in the partnership.
"The conference is an excellent opportunity to network with procurement and supply chain professionals from government, parastatals, private companies, NGOs and the academia. We expect to have more than 200 delegates at the conference," Chikoya said.
She said Mips has the overall mandate to promote professionalism in procurement and supply in Malawi.
"If a company or an organisation partners with us, it will improve their public perception by being regarded as one of the leading companies that are supporting the growth of the profession."
"Companies and organisations will also benefit from this partnership through improved visibility to relevant niche markets and also they will have an opportunity to exhibit their products at the event," Chikoya said.
She said most companies need to take advantage of the lake conference as 'people who procure goods and services' in most of firms will gather at the lake and there will be no better place to market their brands than the Mips lake conference.
"Companies can increase their awareness by meeting with the key players in the procurement and supply process of an organisation and they can only do this at this lake conference," said Chikoya.
The conference will be held under the theme 'e-Procurement; Harnessing Information Technology for Efficient Procurement and Supply Chain Management for Social Economic Development'.
(Visited 38 times, 38 visits today)
Latest posts by Vanessa Banda
(see all)