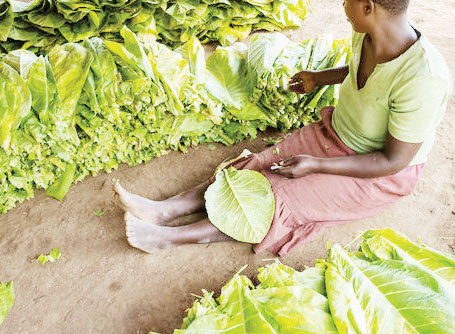 Malawi intensifies child labour fight
Joseph Chidanti Malunga
By Telephorus Chigwenembe
The Tobacco Commission (TC) has said it will soon be signing a Memorandum of Understanding (MoU) with the Eliminating Child Labour in Tobacco Foundation (ECLT) to strengthen the fight against child labour in the tobacco industry in Malawi.
Compliance with human rights and environmental care requirements in the tobacco value chain in Malawi and is expected to improve the country's industry ratings internationally, thereby making Malawi's leaf more attractive.
A member of the United Nations Global Compact, ECLT is a Geneva-based foundation that brings together key stakeholders against child labour in the tobacco-growing supply chain.
Speaking in Lilongwe on Wednesday, TC Chief Executive Officer Joseph Chidanti Malunga said the tobacco regulatory body and ECLT agreed on the MoU when he recently met with the foundation's officials in Geneva where areas of collaboration were discussed.
Traces of child labour in the tobacco industry in Malawi have prompted the commission to step up efforts in fighting the vice.
According to Chidanti Malunga, the purpose of the three-year MoU that the TC and ECLT will be signing is to set a framework for collaboration between the two institutions to contribute to Malawi's National Action Plan for the Elimination of Child Labour (2020-2025).
"The MoU will allow ECLT to support us in building our institutional capacity to fight child labour in all its forms in the tobacco industry in the country," he said.
The MoU will also enable the two organisations to develop a child labour database in Malawi.
A 2015 National Child Labour Survey showed that 38 percent of children aged between 5 and 17 were engaged in child labour in the country.
According to ECLT Foundation, 160 million children are involved in child labour worldwide and 70 percent of these are in agriculture.
TC and ECLT will be entering into the MoU in a year the International Labour Organisation declared the International Year for the Elimination of Child Labour.
In its quest to keep demand for Malawi's tobacco on the international market alive, The Tobacco Commission has committed to decisively deal with child labour, forced child labour and forced labour and to promote compliance with environmental care obligations.
Malawi has an opportunity to sell up to 140 million kilogramme (kg) s of tobacco on the international market.
Meanwhile, the regulatory body, which is mandated to promote the production and marketing of tobacco, says it is geared to push the country's annual tobacco production volumes to 200 million kg by 2023.
Let us know what you think of this article and remember to add us on our facebook and follow us on our twitter. Come back daily for more Malawi business news.
Quick Links: Download Business eBooks | Ten Signs You Are An Entrepreneur | What is a Managing Director?
Latest posts by Vanessa Banda
(see all)