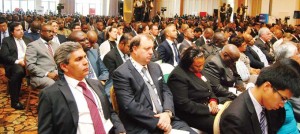 Malawi Investment Forum dangles $2bn projects
Government has dangled projects worth over $2 billion to prospective investors at this year's Malawi Investment Forum (Mif) which was held in Lilongwe from October 10 to 11.
The projects are in the fields of agriculture and agro-processing, infrastructure, tourism and services, energy and mining, financial services and manufacturing.
Information sourced from the conference guide, the investments under agriculture and agro-processing include a cage culture development project on Lake Malawi. The project cost is estimated at $196,000.
Under this project, the government will provide a concession to the qualifying project promoter.
Another project is the cage culture fish production and processing at Kasinthula. The project cost is yet to be determined, but the government will also provide a concession to the qualifying project sponsor.
Development of a horticulture farm for export is another project to be constructed at the Kamuzu International Airport and the government will provide land while the investor will develop the project on a long term Public Private Partnership arrangement (PPP).
Ship building and repair facilities in Nkhata Bay is one of the projects under the infrastructure sector. A $30 million development of Light Industrial park in Blantyre is another project, whereby Malawi Investment and Trade Centre (MITC) is looking for a financier or equity partner to enter into a PPP agreement with.
Development of high rise commercial office block is another project and government has already committed $1.8 million while MITC has also secured strong interest from three blue chip institutions that intend to inject equity finance.
Under the tourism projects, the government would like to introduce cable cars on Mulanje Mountain at an estimated project cost of $150 million.
The government will license the qualifying operations to operate the project in protected areas.
Another project is a $5 million multi-purpose science, technology and innovation park. Investors are called upon to submit their expression of interest to collaborate with the government.
Blantyre Cultural Center is another tourism project, with a project cost of $700,000. This is a PPP project and seeks partners to invest and operate the facility. The energy and mining sector has projects like waste to energy for Blantyre city council.
Kanyika mining project, with a phase one capital injection of $150 million. The project is under Global Metals and mining Limited, an Australian company looking to partner with a Malawian investor.
Lower Songwe Dam and hydro power plant project is a $550,000 project that has an estimated 180.2 megawatts power production. The government is looking for credible off takers.
Lastly is the manufacturing sector with a $2.5 million Macoha textile manufacturing factory project. The project aims at revitalising the Bangwe weaving factory in Blantyre.
(Visited 95 times, 95 visits today)
Latest posts by Vanessa Banda
(see all)