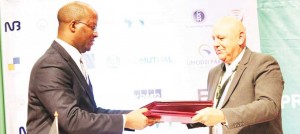 Malawi Investment Forum in progress, six firms commit deals
The second Malawi Investment Forum started on a high note in Lilongwe on Monday, with six companies signing Memorandum of Understanding with government and the private sector to invest in various sectors of the economy.
The MoUs have been signed in projects under ministries of agriculture, lands and energy and the projects include a $120 million Lake Malawi water supply in Salima, $20 million for officials buildings for government offices, infrastructure development project in Area 32, heritage site aimed at preserving the national identity, hydro and coal fire energy project by Mota Engil and $1 million bio-fertiliser plant.
Speaking during the opening of the forum, Minister of Industry, Trade and Tourism, Joseph Mwanamvekha, said government expects more investment deals to be signed before the end of the meeting.
"This forum has been organised to bring together both foreign and local investors to primarily consider investing in projects that Malawi offers," he said.
Malawi Investment and Trade Centre (Mitc) Chief Executive Officer, Clement Kumbemba, urged the investors to turn Malawi's challenges into opportunities.
"As a country, we face a number of challenges but these challenges can be turned into investment opportunities that will see you making profits. By inviting investors into the country, as a country we will also be addressing the issue of foreign exchange shortages," said Kumbemba.
Malawi Confederation of Chambers of Commerce and Industry (MCCCI) President, Karl Chokotho, echoed Kumbemba's sentiments that Malawi has immerse opportunities that have not been fully tapped.
"The most important asset for Malawi is its people. By coming here, you have made a good decision as you will be able to see for yourselves the opportunities the country has and you will not be disappointed," said Chokotho.
African Development Bank Regional Director for Southern Africa, Kennedy Mbekeani, said the forum signifies the government's commitment to grow the country's economy.
Mbekeani said although Malawi is facing challenges in the energy sector, AfDB has projects to light up Africa in order to attract more investment, which he said Malawi is likely to benefit from.
Vice Pres ident , Saulos Chilima, urged the investors not to confine themselves to Malawi alone but rather tap the wide market that the Tripartite Free Trade Area is offering.
He said Malawi takes investment and trade as key in its development agenda.
"The government recognises the importance of investment and trade in creating jobs, expanding the tax base, attaining sustainable economic growth and improving living standards of the people," said Chilima.
(Visited 113 times, 10 visits today)
Latest posts by Vanessa Banda
(see all)