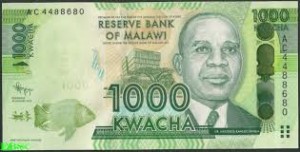 Malawi Kwacha annual depreciation at 18.87%
The Malawi kwacha is said to have so far depreciated by 18.87 compared to an 8.5 percent depreciation rate registered during the same period last year.
This is according to a latest economic report from Nico Asset Managers and the firm has since warned that the local unit is expected to continue depreciating as the lean season advances coupled with increased speculation on the back of a drop in earnings from tobacco.
By 31st October 2015, the kwacha was trading at K559.63 per dollar at the Authorized Dealer Banks (ADBs), compared to a rate of K472.23 during the same time last year.
The report further indicates that in the month of October 2015 alone, the Malawi kwacha depreciated against the US dollar, the British Pound, and the South African Rand.
The loss in the kwacha value against major international trading currencies has mainly been attributed to a combination of the strengthening US dollar and speculation in the run up to the lean season which has escalated demand for the currency.
"This could be mitigated if authorities sell forex to the private sector. In the medium to long term, the currency is expected to depreciate due to the significant current account deficit and weak foreign direct investment inflows despite tobacco exports and improving forex reserves," reads part of the report.
Two weeks ago, the kwacha started regaining momentum, but could not hold for longer and the Reserve Bank of Malawi (RBM) confirmed that traded volume on the interbank market dropped to K 4.60 billion compared to K 12.07 billion during the week before.
(Visited 34 times, 34 visits today)
Latest posts by Vanessa Banda
(see all)